If you regularly use your laptop at a desk, some sort of riser or stand is an ergonomic must: you should raise your laptop's screen to the proper viewing height and then use a separate keyboard and mouse, placed at a healthy (read: much lower) height of their own, for input.
For years, one of the most popular laptop risers was Griffin Technology's iCurve, but even though I owned a couple, I have to admit that I wasn't a big fan. It wasn't that I actively disliked the iCurve; I just preferred other designs, such as Plasticsmith's Lapvantage Loft (though the Loft was considerably more expensive).
But I've been testing Griffin's successor to the iCurve, the new $40 Elevator , for a few weeks now, and it's a significant improvement over its predecessor. Instead of an all-plastic design, the Elevator uses two U-shaped aluminum arm/leg pieces braced in front by a clear-plastic base. The Elevator raises your laptop nearly six inches off your desk for better screen viewing (and, thanks to a design that keeps the bottom of your laptop exposed, better cooling). Open space underneath the stand gives you a place to store your external keyboard when not in use.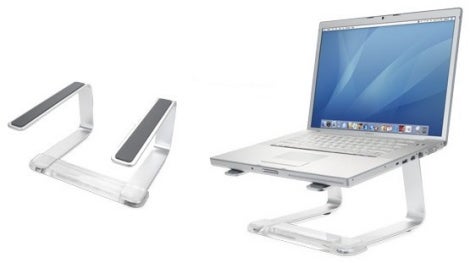 Compared to the iCurve, the Elevator is also significantly sturdier—your laptop doesn't bounce as much while on the stand—looks nicer thanks to the brushed-aluminum legs, and is more convenient for storage since you can easily disassemble it into its three component pieces. (Although perhaps too easily; if you try to pick up the Elevator by one of its legs, there's a good chance the leg will slide out of the base piece.) I also like that the entire top surface of each arm/leg piece is covered in rubber for a better grip on your laptop; like the iCurve, the top of the Elevator is angled, so this improved grip reduces the chance that your laptop will slide off.
I still prefer a few features of the Laptop Loft—for example, the rotating base; the large, flat top surface; and the exceptionally sturdy arm that keeps your laptop as stable as any stand I've seen. But the Elevator is quite a bit less expensive than the Loft and can collapse to a much smaller size for storage. If you're looking for a laptop stand, the Elevator is worth a look.