When you think of adding features to Adobe Photoshop, you generally think of plug-ins, like those offered by Alien Skin Software, Flaming Pear or onOne Software, all of whom offer excellent plug-ins at a reasonable price. There's more to improving Photoshop than just adding plug-ins, however; specifically, I'm referring to Photoshop Actions and Styles.
Photoshop Actions are basically a "recorded" set of instructions on what to do with a particular document and saved in a way that lets you apply these instructions automatically. Actions can be based on the tools built into Photoshop or may rely on third party plug-ins, but most can run out of the box with no further fuss. For in-depth information on Photoshop Actions and how to use them, check out Trevor Morris' extensive tutorial, titled Actions: Automating tasks in Photoshop.
The first place to go to find actions is Adobe's own Photoshop Exchange, but prepare yourself. Despite the fact that this is from a company that is supposed to be Web-savvy, the site loads slowly and is poorly organized, with horrible navigation. You can't use your browser's Back button, and both the type and preview images are tiny. But, if you can get past all that, you'll be treated to over 5,000 action files (assuming the numbers are correct), most of which are free to download.
You could easily spend a weekend just going through all of them: they include image and type enhancements, production and correction tools, and simple repetitive-task productivity boosters. So, grab a cup of coffee, be calm and surf through the vast selection. (According to posts in the Adobe User-to-User forums, Adobe is aware how awful the Exchange became after the last update and is addressing the issue. Hopefully they will bring back the earlier site, which was a daily "must-stop" for many designers.)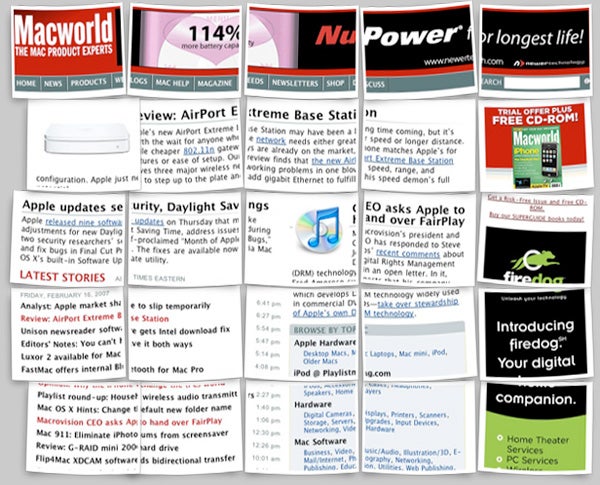 If you're looking for other sites with actions—free or otherwise— check out PicsToBits; the P2B Perfect Skies, an action for improving the skies in your photos, is a good one.
Outside of Photoshop Exchange, the place that has the most useful and creative actions for me, though, is PanosFX. Panos Efstathiadis, who runs the site, has a talent for creating actions, which is quite obvious once you use them. He only offers 34 of them for free, but they're probably 34 of the best creative image enhancement actions available. For example, the image above took just a few seconds to create. I took a screenshot of the Macworld.com home page and ran the B&Big Picture action. And, while you're on Panos' site, be sure to check out his small selection of action files that are available for purchase; many of them, like the Old Paper action, are quite nice.
Don't forget styles
Photoshop Styles is another "automated" way to apply effects to objects. Styles are simply a group of saved layer effects. When you apply a style to an object or text, all the layer settings are preserved for further editing. This is especially important because you can go back and make adjustments without having to go to the History palette to undo what you've done. Layer effects are scalable, and you can apply them to editable type, making them much more flexible than effects applied via Actions.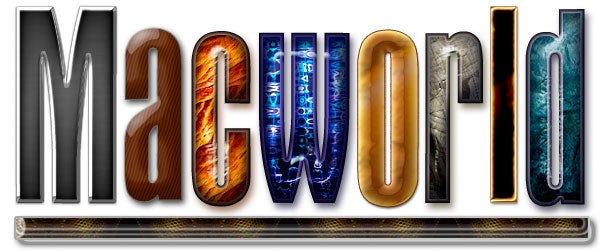 The image above shows off just a few styles applied to each letter of the Macworld logo. Each letter required only a single click in the Styles palette to instantly transform the plain black letter to what you see in the graphic.
There are plenty of styles on the Photoshop Exchange site and I encourage you to look through them all: there are many that can save you time trying to get a particular effect. For example, if you're looking for a brushed titanium face with chrome edges to add to a box or letter, you could apply the New Chrome Titanium style. And, one of my personal favorites, as is the Wood Style.
Both actions and styles are easily installed simply by dropping them into your Photoshop – > Presets – > Actions folder or Photoshop -> Presets -> Styles folder and then loading them via the flyout menu in the Actions or Styles palette.
[James Dempsey runs the Creative Guy blog, which offers tips, tricks and opinion on a variety of design topics.]
For more stories on Photoshop actions, see Macworld's Automate Photoshop chores, and Photoshop Automator action satisfaction.