There are many good digital photography books available in the market today. Not only are there updated versions of traditional classics (like Bryan Peterson's Learning to See Creatively ), but there are a mountain of books from people who grew up with Adobe Photoshop and waited, sometimes impatiently, for digital cameras to come of age. Two books that I have found to be especially good are Scott Kelby's The Digital Photography Book ($20, Peachpit Press), and Complete Digital Photography , from Ben Long ($40, Charles River Media).
If you're looking for a different type of book on the topic, however, it's worth seeking out Stephen Johnson on Digital Photography ($40, O'Reilly), which recently made it to the top of my reading pile. The book is part history, part photographic philosophy, and part tutorial, all delivered in Stephen's inimitable style. At first glance, it might appear to be more like a fine-art book than a tutorial/reference work, but it really is worth digging into.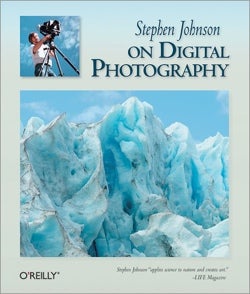 I have known Stephen since my days at MacWEEK , when he was working on his National Parks project, and I can tell you that he truly is one of digital photography's pioneers: I remember Stephen giving us a demonstration of the Dicomed scanning back on a 4×5 view camera, back in the early 1990s. As I recall, the camera took minutes to generate an image, but their otherworldy look (and huge file sizes) made an impression on me long before we got to the crappy, half-a-megapixel, $1,000 digital cameras that were soon to come. (Dicomed is long gone, but the company that created the technology, BetterLight, continues to this day with extremely high-quality digital backs for studio and field cameras.)
Stephen has been working at the far reaches of digital photography since those early days, primarily as an artist who consistently pushed the technology line forward to channel his vision. The forcefulness of that vision sometimes rubbed people the wrong way, but his commitment to the art and advancement of digital photography can't be questioned. And, while I never saw myself using the high-end gear that Stephen did to create his work—a 6-megapixel digital SLR was all I was really waiting for—Stephen's presence in the industry, and his work with companies like Adobe, Radius, Epson, HP and Apple has helped all of us in many ways, large and small.
Stephen Johnson on Digital Photography is full of solid information and helpful tips on taking the best pictures with your camera, editing them on your Mac, and presenting them on-screen, on the Web or in print. It is beautifully illustrated, with lots of Stephen's photographs, as well as some from masters like Ansel Adams. And, unlike so many other computer books, you always get a sense of the author in this book, and Stephen's not afraid to tell you when there is no one answer to a problem, such as he does when he talks about image sharpening. It might not become the standard bookshelf reference text, but I think many readers should find that they'll learn almost as much Stephen's book as they would from a traditional photographic text.
Fine art printing
I'm sitting in a crowded room with six printers, five of them photo printers of various types. I've written about a few of them—HP's
Photosmart Pro B9180
and
DesignJet Z3100
, Canon's
ImagePrograf ipf5000
, and Epson's
Stylus Pro 3800
—and feel that I have a pretty good handle on the fine art photo printing market. For those photographers who, for some reason,
don't
want printers to be at the center of their life, a better place to start is
Fine Art Printing for Photographers
($45, Rocky Nook).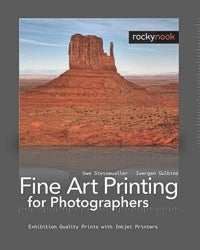 Written by Juergen Gulbins and Uwe Steinmueller, the proprietor of Digital Outback Photo, this book covers all of the topics necessary for you to create the best fine art digital prints possible. The authors focus less on which printer to buy—a wise choice given the constant flux in the market—and more on workflow, calibration techniques, media selection and ink types (which, as I've noted previously, can be as important as the printer you choose), and how to get past the quirkiness of print drivers.
Fine Art Printing for Photographers is clearly written and amply illustrated with photographs, charts, and screen shots, but it rarely gets mired in the technical details. I know that most people don't share my obsession with getting the best prints out of an inkjet printer (nor should they), but, if you do, or you need to produce digital prints for sale, Steinmueller and Gulbins are excellent guides.
Understanding Raw
And while I'm talking about books, I'd be remiss if I didn't mention Ben Long's Getting Started with Camera Raw ($25, Peachpit Press). Shooting images in Raw mode is a hot topic, what with the increased sales of Raw-capable digital cameras and the rise of workflow-centric applications like Apple's Aperture and Adobe's Photoshop Lightroom. But, as I have found when I've gone out into the field and spoken with amateur photographers, shooting in Raw mode has a mystery that belies it's use, and it shouldn't be that way. Ben's book, which has been out for over a year, is targeted at this type of shooter, and is wonderfully free of jargon and tech-speak. It might not be the most technical and most comprehensive book on Raw photography—that title would go to Bruce Fraser's Real World Camera Raw with Photoshop CS2 ($40, Peachpit Press), also a fine book—but Ben does a great job for those of us who just want to learn how best to use Raw in our daily work.
[Disclaimer: Ben's been writing for Macworld for years, and is a good friend of mine. While I can highly recommend the books mentioned here with a clear conscience, I would also urge you to stay away from any of his books on the Great Malvern railway station, which are actually quite boring and, thankfully, long out of print.]