At a Glance
Expert's Rating
Pros
Adjustable bass and treble controls
Attractive, unique design
Good overall sound with surprising bass and volume levels for the size
USB and FireWire connections
Cons
Slight hiss at loud volume levels
Lacking some treble detail
Our Verdict
In terms of its size and features, mStation's $150 2.1 Stereo Orb is a compact/desktop speaker system—similar to Bose's SoundDock, Klipsh's iGroove, and the like. But as its name indicates, aesthetically the Orb is unique: it takes the shape of a 7.8-inch globe (with a flat, rubber-footed base to keep it from rolling around your desk). Available in a number of glossy colors—black, white, silver, blue, green, pink, or limited-edition red—with matching fabric speaker grills, the attractive 2.1 Stereo Orb generates nearly as much conversation as sound while sitting on your desk, nightstand, or countertop. In fact, without an iPod attached, it's also likely to generate questions about what, exactly, it is.
Place an iPod in the Orb's top-mounted dock cradle—the Orb doesn't use Apple's Universal dock design, but six dock adapters are included to accommodate all current dockable iPods—and the spherical device's purpose becomes apparent. The system's 30-Watt amplifier drives left and right 2-inch speakers and single 3-inch subwoofer. Bass response is impressive for a system this small, and midrange is good. On the other hand, even with the treble cranked up—the system's remote lets you adjust treble and bass levels, a welcome touch that many speakers in this price range don't provide—there's a lack of detail in the upper midrange and treble, especially at low volume levels. And the bass response can be a bit boomy if set too high. However, most people should be able to find an acceptable mix via the bass and treble settings. (There's also a slight hiss produced by the system, but this sound is difficult to hear unless the volume is turned up and no music is playing.)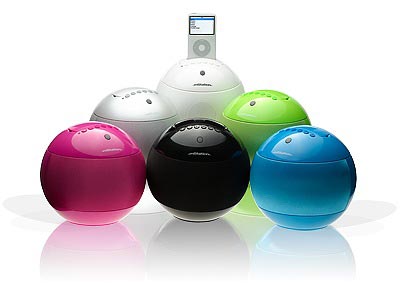 As with most one-piece "desktop" speaker systems, which have speakers positioned close together, you don't get much stereo separation with the Orb. On the other hand, unlike most small speaker systems, the treble response doesn't further suffer when listening off-axis (to the side or above or below the speakers). And the Orb puts out impressive volume levels; although it does distort at the loudest volumes, especially if you've increased the bass level, it's got much more presence than you'd expect given its size.
Just in front of the Orb's iPod dock cradle are six buttons to control playback: On/Off, Volume Down, Volume Up, Back, Forward, and Play/Pause. The included infrared remote includes the same complement of controls along with Up and Down controls for both bass and treble. As with any infrared remote, this one requires line-of-sight access to the Orb, but range and off-axis performance were both good.
To change playlists or manually choose settings or songs, you need to use your iPod's own controls, which is easy to do given that your iPod sits on top of the Orb—you can grip the iPod and use your thumb just as you would if you were holding the iPod in your hand. My only complaint here is that I wish the Orb either kept the iPod's backlight on full-time or provided a "backlight" button on the remote, as some other systems do, to let you quickly see what's playing; instead, you have to touch the iPod's Click Wheel (or quickly pause and then resume playback) to turn the backlight on.
On the back of the Orb is a small, recessed area that hosts the system's ports and jacks. Located here are the AC-adapter jack, a 1/8-inch stereo input jack for connecting another audio source, a USB 2.0 port, and a FireWire 400 port—the latter two for connecting the Orb to your computer to sync your iPod with iTunes. FireWire is a rarity in speaker systems nowadays, and only older iPods can sync via FireWire, but the inclusion of this port is a unique and welcome feature for those with older iPods.
Finally, the Orb feels well-built and the sturdy, flat base makes it difficult to tip over, despite the round design. I also appreciated the "dust guard" dock insert, which keeps the Orb's dock connector safe when you're using an audio source other than a dockable iPod, and the fact that mStation package includes both USB and auxiliary-audio cables.
The lowdown
As with most "desktop" iPod speakers, you can get better sound quality at a lower price from a number of non-iPod-specific sub/sat speaker systems. And I was a bit disappointed by the Orb's treble detail. That said, the Orb produces generally good sound, offers an appealing feature set, and is well-made. And you're unlikely to find another system that takes up this little space on your desk, or looks this good, and puts out comparable volume. It's a reasonably priced and attractive alternative to the more expensive desktop iPod speaker systems out there.