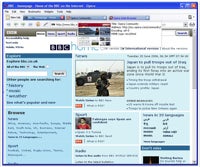 Via the magic of the Internet, the following post is appearing both Macworld's Gadgetbox and MacUser. Do not adjust your set.
The independently made web browser has hit version 9. The team has added a number of pretty nifty features that you won't find in a lot of the other browsers out there: BitTorrent support, content blocking, tab previews, and their own widgets. On the OS X side, it's also a Universal Binary.
I haven't used Opera in several years, having been content with the plethora of great web browsers available for my platform of choice (Safari, Camino, Firefox), not to mention that I prefer to pay as little as possible for my browser (in the past, Opera used to cost around $30). But given that Opera is going to be the browser of choice for both the Nintendo DS and the Nintendo Wii I decided to download it and see what "the future" might have to offer.
My quick impressions: there's lots to like here. Built-in session management is an excellent addition (save or restore a set of tabs and windows); you can hover over a tab to see a preview of its content; BitTorrent support is very cool; and I love the quick built-in search shortcuts (a feature I've added via SafariStand ). And the team hasn't forgotten that Opera is a web browser at heart: not only does it pass the Acid2 compatibility test, but it also supports forthcoming standards like WebForms 2.0.
The downside? The UI is, frankly, pretty hideous on OS X, and the application suffers from the same problem as Firefox on the Mac: it's just not very Mac -like. I haven't tried it on my XP machine yet, but there is the possibility it could be a worthy competitor to Firefox on that platform. If nothing else, I hope it raises the bar for the other browsers to add some of the same features.
[via Slashdot ]