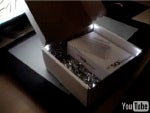 Dan was wondering if I'd managed to scam myself a Nintendo DS Lite early, or today. The answer on both accounts is no. After regularly checking the local Target and Wal-Mart fruitlessly for days, I decided it simply wasn't to be. The new plan was to see if I was able to get a DS Lite on Sunday before Gamestop could ship the one I pre-ordered. I'll admit, that would have been a dirty trick, but I was desperate.
That was well and good until I realized that they shipped mine out on Friday. The even bumped my shipping to UPS 3 day. The quickest among have already realized what that means. I won't be getting mine until Wednesday. That's days away.
To fill my time, I've been watching Penny Arcade's video of opening a Nintendo DS Lite box (dig those trumpets), reading comics on the frustration I, as well as thousands of others, experienced, and finding out some DS games react to DS Lites differently than the regular variety.