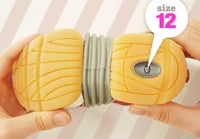 Kids. They're always growing. It's damned inconvenient. No sooner have you bought them a $75 pair of sneakers with little lights in the heels then you need to buy them a pair several sizes larger. You could make them go barefoot—hey, if it's good enough for seventeeth century street urchins, it's good enough for them—but if you're looking for a solution that will keep you out of the hands of Social Services, you might consider a pair of Inchworms.
The Inchworm can grow a full size in half-size increments, giving you an unprecedented three shoe sizes in one shoe. It's aimed primarily at toddlers and runs in children's shoe sizes from 10 to 5. When your kid outgrows their current size, press a button on the side of the shoe and pull on each end to extend it another half size.
The shoes are available in a variety of styles and colors and cost just between $20 and $50, which seems like a pretty good deal to me. Better, anyway, than shelling out for three pairs of shoes in a year or so.
[via Gizmodo ]