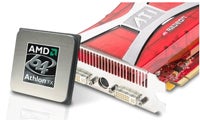 The acquisition of graphics powerhouse ATI by chipmaker AMD was announced in July, but as always it takes a little time for all the paperwork to be signed; ATI has to officially change its name; and, of course, blood tests need to be carried out. But now, the two companies have exchanged vows and rings; so what's next for our newlyweds?
Well, almost immediately, the couple has announced that they're expecting a little product by the name of Fusion. The goal is to integrate the CPU and GPU on one single little piece of silicon. The gestation period on this little feller is a bit longer than ordinary—it won't appear until 2008 or 2009, and details are still scarce, but AMD has been talking the talk:
"With the anticipated launch of Windows Vista, robust 3D graphics, digital media and device convergence are driving the need for greater performance, graphics capabilities, and battery life," said Phil Hester, AMD senior vice president and chief technology officer. "In this increasingly diverse x86 computing environment, simply adding more CPU cores to a baseline architecture will not be enough. As x86 scales from palmtops to petaFLOPS, modular processor designs leveraging both CPU and GPU compute capabilities will be essential in meeting the requirements of computing in 2008 and beyond."
The benefits could include improved power efficiency and better integration between the GPU and CPU.
It's interesting, as this seems like the reversing of a trend; discrete graphics systems were standard for years on PCs, but integrated graphics (Intel's GMA950, for example) have been making a comeback. Now, they're being packaged back into the very same chip. Technology: it's just a cycle.
[via Ars Technica ]