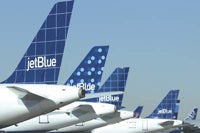 When I went to San Francisco for Macworld Expo in January, it was my first trip flying JetBlue, and I have to say: I really enjoyed it. The flight was quick, the service courteous, and the amenities better than I had expected for the low price of my ticket. When I was bored with my DS and my video iPod was out of juice, I could flip through thirty channels of DirecTV. Not too bad.
But now that JetBlue has won a license from the FCC for high-speed in-flight Internet access, well, why would I fly any other airline? Being able to grab my email or—heavens forbid!—work productively while in the air is a pretty nice perk. Here's hoping they won't muck it up too much by charging an arm or a leg, or hampering it with annoying restrictions.
Fortunately, this license does not allow for cell phone usage, so we're still safe from the annoying ramblings of our rowmates on those cross-country flights. Hurrah.
[via Gizmodo ]