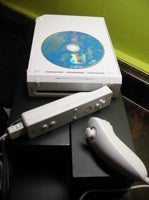 I'm a fan of the guys and gals over at Ars Technica; for one thing, they're incomparably thorough when it comes to reviewing the latest projects; for another, they're knowledgeable about the topics they discuss; and for a third, they're damn funny to boot. So when they popped out a review of Nintendo's Wii, Gadgetbox's #1 fetish object, was there any chance I wouldn't link to it? No, not much.
The Wii ends up scoring an 8, with particular likes being the clean design, the low price, and, of course, the innovative and intuitive controls. The cons? Graphics that don't look as good as its competitor, lack of HDTV integration, and not-yet-present online features.
To put it in perspective, the Xbox 360 garnered a 9 for its Premium system and a 6 for its Core bundle from Ars last year. Of the two, you'll certainly have an easier time picking up the 360 today, but I think we'll be seeing some more Wiis before the holiday season is out.
And of course, our own Derik has a Wii, but has yet to enlighten us with gory details. Oh, Deriiiiik…