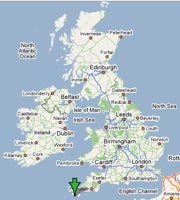 I do most of my work in Wi-Fi-enabled cafes and libraries, so when I saw that the world's fastest Internet cafe had opened , I resisted the urge to phone them and ask if their cafe was running.
What makes this particular cafe so speedy? Well, located on the Lizard Peninsula of Cornwall, in the United Kingdom, the cafe is connected directly to British Telecom's (BT) global network, allowing download speeds of 100 Mbps per second. The Goonhilly station is also home to 61 satellite dishes for handling TV, data, and phone transmissions.
How fast is 100 Mbps really?
Adrian Hosford of BT said: "It would be possible to use the cafe's computers to download in less than 15 minutes a file the equivalent size of the DVD version of the Encyclopaedia Britannica, with its 19,000 illustrations, 629 audio and video clips and 100,000 articles.

"A standard broadband connection would typically take in excess of five hours."
Smoking.
But while the service is free to visitors, the station's location (see picture above) makes it somewhat unlikely that you'll just "be in the neighborhood."
No word as of yet on the cafe's menu, but one can only hope the world's fastest Cornish game hens are the order of the day.
[via Slashdot ]