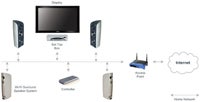 My friend's parents just expanded the deck at their place in Vermont, and while we were up there for the holidays, we started talking about whether or not they ought to wire the outside for sound. We eventually concurred that at least running wires might be a good idea, just in case they wanted to put sound in their eventually.
They aren't alone in this difficulty: wiring after the fact can be a pain in the neck, whether it's for power, sound, or networking, which explains the move to wireless. While wireless networking has truly become pervasive, wireless sound hasn't yet caught on.
Avega Systems hopes to change that with their Aios wireless audio platform. Avega's an OEM company—they make the technology for other companies to license and brand. What makes Aios different from other players in the space ( Sonos, for example) is that Avega is leveraging the existing 802.11 technology used in wireless networks to transmit their sound. It's actually similar to Apple's AirPort Express, though, as one of the guys explained, hopefully without all the problems. Of course, the iTV device may throw a wrench in those plans, but I'm interested to see what they come up with: the lads from Avega were charming and enthusiastic, and their collection of skills is an impressive read.