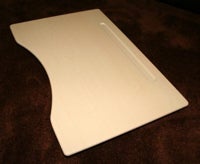 Looking for a cheap and easy way to use your laptop notebook computer, without scorching your legs? There are plenty of third-party laptop desks designed especially for computer, but they can often run over a hundred dollars. Why pay that, when you can do what our Macworld colleague Dan Frakes did, and buy a beanbag lap desk at Target for just $10 ?
The device is simple, featuring a hard wooden top made out of wood or plastic, and a beanbag underside that magically conforms to the individual users lap. The only downside, as Dan notes, are the often hideous patterns that adorn the beanbag fabric. Then again, if it spends most of its time on your lap, who will be the wiser?
$10 is certainly a price I can get onboard with, so I'll have to remember it for my next trip to Target.