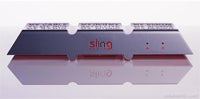 Slingbox, the clever little gadget that lets you watch your TV from anywhere in the world with a fast internet connection, is under attack from Major League Baseball. Baseball officials seem to believe that if you're a Giants fan who is on a business trip to Chicago, you shouldn't be allowed to watch that night's Giants-Padres game. Somehow.
Now, Slingbox can surely be used for ethically questionable things. Like renting out Slingbox access to people who don't live where you do. But those are crazy, edge cases. For the most part, Slingbox is a device that lets you watch content you've already paid for.
Ironically, Slingbox was actually created by a few Giants fans who wanted to keep up with their team when they were traveling. And now MLB wants to claim that doing that is illegal? If I'm in Chicago, is my only option to pony up a couple of bucks for access to MLB's official (and somewhat shaky, if I'm honest) video stream? I've already paid. I don't want to pay again. What's worse, when I'm at work (in downtown San Francisco), I'm unable to buy MLB's stream because it's blacked out in the local area. My only recourse is to watch TV — but my office, like most workplaces, doesn't have cable.
It's easy to attack MLB on this one, since they're being blatantly anti-consumer. But its behavior isn't really any different than most large entertainment companies. Let's face it — if big entertainment companies got their way, you wouldn't be able to fast-forward through commercials, or record TV shows for later viewing, or buy anything on DVD. We'd be living in a pay-per-view world. The fact that, when given a chance, their customers would never choose such a thing doesn't matter one bit. They're not interested in giving their customers what they want — they're interested in bleeding every last penny out of them. And suing into the dust any company, like TiVo or Sling Media, who tries to give consumers any power.
The official scorer's ruling is in, and he's ruled this one an error.
[ via BoingBoing ]