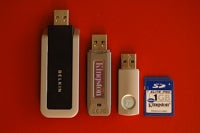 We discussed Belkin's Cable-Free USB hub just the other day, and the boys and girls at Engadget have already got their hands on one. They've put the hub through its paces, to see if it works as advertised.
The short answer? Meh . The range, purported to be about 30 feet, was more like six feet in their testing, which left rather a lot to be desired. Likewise, the speeds which were supposed to be up to 480Mbps, fell rather short of that mark, reaching more like 6.35Mbps. For comparison, a wired connection transferred the same file at around 80Mbps.
Finally, form factorwise, the wireless USB dongle that plugs into your computer is enormous (as you can see in the picture above), meaning that they had to plug their keyboard in elsewhere, since the dongle blocked access to the neighboring USB ports. That said, it did work , which, I suppose, is saying something, but not very much. Looks like you might be better off waiting for version 2.0. Oh, and I promise never to use the words "enormous" and "dongle" in the same sentence ever again.