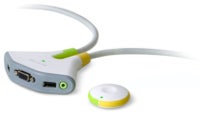 I live a double life. By day, I'm a mild-mannered writer, bring you the latest news on gadgets, but by night I'm tearing up the gaming world as Master D3ath5trok3, raining down doom on my unsuspecting opponents. While I use a Mac for my daily work, my gaming alter ego requires something a bit more: a homebuilt PC running—*gasp*—Windows XP.
I use a KVM to switch back and forth between my personalities, minimizing the clutter on my desk by having just one monitor, keyboard, and mouse, but it lacks a couple of features that would be nice, like the ability to switch audio along with the other peripherals and, um, a wireless remote control .
Enter Belkin's new Flip Wireless KVM. Based on their previous Flip KVM, the wireless version incorporates a small remote control sans wires that's reminiscent of the Apple's infamous hockey puck mouse. The remote uses RF and can be put anywhere within 10 ft. of the computer where it will sit, dormant, until called upon. The Flip Wireless also incorporates audio sharing (hurrah), and integrated cabling. It retails for $79.99 though, which is a bit of a jump from the $15 I paid for my current KVM switch.
[via Engadget ]