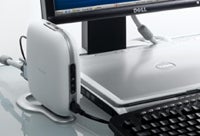 I hate to see innovative products badged only with Windows XP and Vista compatibility. Take Belkin's new Notebook Expansion Dock, for example. Instead of providing a bracket that plugs into your existing ports and merely replicates them, the Notebook Expansion Dock gets all of its connections via your notebook's ExpressCard interface.
The back of the dock has ports for VGA, DVI, 5.1 surround sound, optical audio, 10/100 Ethernet, and 5 USB 2 ports (two of which reside on the top of the device, for easy access to flash drives). It's a fairly compact little piece of equipment, too—the vertical form factor means you can stick it right next to your monitor without it looking too out of place. Plus, the ExpressCard interface means you only have to run one cable, which is certainly convenient.
I'd be curious to see how it works; they claim 2.0Gbps speed over the ExpressCard connection, but with optical audio, a 1600×1200 DVI signal, and some USB connections, who knows how much the bandwidth could take a hit? I'd almost be willing to shell out the $199, except for the lack of Mac compatibility. Perhaps Belkin will hear my cries of pity.
[via Gearlog ]