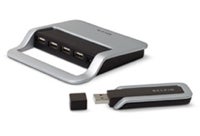 In my previous thoughts about Wireless USB, I opined that it seemed like a solution in search of a problem. While I'm all in favor of removing wire clutter and replacing it with sweet, sweet radio waves, Wireless USB hubs only remove half the problem: the wire connecting the hub to the computer. You still have to plug all your wired peripherals into the hub. Someday, perhaps this will be built into all peripherals and computers, but that day is not mid-December, so Belkin's debut Cable-Free USB Hub may have to do for a while.
The Cable-Free Hub will go for $200 when it's released in the next couple weeks, and it's the first Ultra wideband product released from sea to shining sea. Range will supposedly be about 30 feet, meaning that you can probably go as far as the next room, and it says that it will do the full 480Mbps of USB2, though I wonder if that refers to the wireless part of the hub or just the wired connections. The hub communicates with the computer via a wireless USB dongle, natch, prompting the question: can we use the wireless USB hub for all our other wireless USB dongles?
[via Engadget ]
Note: When you purchase something after clicking links in our articles, we may earn a small commission. Read our affiliate link policy for more details.