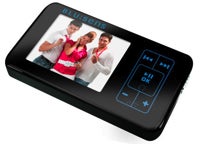 Looking for a Wi-Fi-enabled MP3 player that actually makes use of its wireless functionality? I'll give you a hint: it doesn't rhyme with Daniel Boone . But it might just be this wee G14, by the Spanish firm Blu:sens.
The G14 features 1GB or 2GB of storage for $232 and $258, which may seem like it's on the pricey side, but it's the Wi-Fi functionality that'll turn heads. Unlike the Microsoft Loon, the G14 can sync wirelessly with your computer, and transfer songs and playlists to other users.
It'll play your MP3s, your WMA files, JPEG photos, and MP4 video on its 2″ color screen, features Bluetooth A2DP functionality (two wireless technologies in one device? Awesome), and claims 20 hour battery time, though I wonder how the wireless use cuts into that. Unfortunately, no news yet on if this will ever drop in the US; methinks the RIAA might have something to say whine about that.
[via SCI FI Tech ]