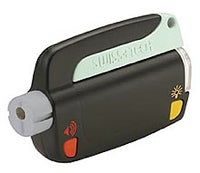 Out on the road, it always pays to be prepared. ThinkGeek's $15 BodyGard incorporates a number of tools that might come in handy, should the unthinkable happen. Besides an automatic glass breaker, there's a seatbelt cutter, a sonic alarm, a bright white LED flashlight, and a flashing red distress light. All that in a package that fits on your keychain.
Both the glass breaker and seatbelt cutter are securely covered when not in use for safety. It runs on an included replaceable 12V battery, and can also be used to ward off attackers, should the need arise. All together, it's one of those things you hope you'll never have to use, but will be glad you have if you do.
[via Ubergizmo ]
Note: When you purchase something after clicking links in our articles, we may earn a small commission. Read our affiliate link policy for more details.