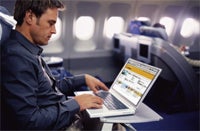 In case you couldn't tell, we're fans of the Wi-Fi here. Wireless internet was, to my mind, the last big revolution in computing, the one that changed the way we worked and made technology become truly pervasive.
Still, there are some places it hasn't quite managed to catch on yet. Such as at a cruising altitude of about 20,000 feet. Sure, there are some isolated services where you can surf the Net while flying, but it hasn't really hit the mainstream yet. We've heard about JetBlue and AirCell entering the fray, but the Wall Street Journal (subscription required) reported last week that Boeing's Connexion service may be going the way of airline peanuts, despite the fact that several companies are actively using it.
The reasons Boeing reputedly gave were:
lack of interest among U.S. airlines
little interest of passengers to pay the access fee ($10-$27)
many airlines lean toward a much-cheaper technology with less capacity that relies on traditional cellular networks.
I agree that paying additional fees is pretty much the bane of my existence, still I hope that this won't hold back airline Internet adoption. Sometimes 30 channels of DirecTV just isn't enough.
[via Engadget ]