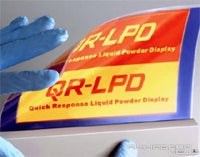 I've already professed my love for E Ink 's electronic paper, in part because it looks like paper, in part because it uses so little power, and in part because people keep coming up with interesting uses for it. (Check out that Seiko watch!)
Still, my head is turned by the younger, flashier, thinner (.29 mm) two-color QR-LDP (Quick Response Liquid Powder Display) electronic paper developed by Bridgestone, as reported in Akihabara News. But, pretty as it is to look at, my loyalty is still to E Ink. For now.
[ Emru Townsend, Digital World ]
Dan's Thoughts: I'm looking forward to E Ink as well. Cheap static displays, here we come!