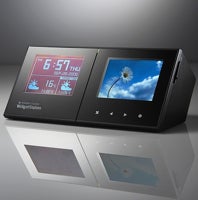 Providing specialized information seems to be the latest fad in technology. On the Mac, we've got Dashboard widgets; the upcoming Windows Vista will feature "gadgets"; both Yahoo and Google have also entered the field with their own offerings.
But Emtrace Technologies is bringing Widgets into the real world with their WidgetStation. It's a pair of LCD screens that sit on your desktop and can be used to display specific information grabbed from the Internet, such as the current weather and forecast, RSS feeds, stock information, and more.
Sure, it's kind of slick looking, but for some things, it seems like it would be a definite step backwards. What if you want to read a full news story from the RSS headline? you'll probably have to do that on your computer. Having an integrated slideshow of photos is cool, but will it compare to viewing them on your full size monitor?
As of yet there's no price or availability yet announced, and Mac compatibility, well, I wouldn't hold my breath. Still, sounds like it'll be making an appearance at CES, so we'll keep our eyes on it.
[via OhGizmo! ]