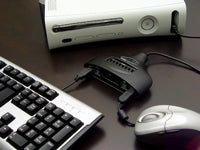 First-person shooters are usually my genre of choice when it comes to computer games. As such, I've usually been happy on the PC platform, but with the introduction of several top-notch FPSs for Xbox 360, including megahit Gears of War , I've been sorely tempted. But the one thing that still keeps me away is the control scheme: I'm no big fan of game pads.
XCM's XFPS 360 could cure me of my fear, but it's still only a prototype. The device hooks up to an Xbox 360 via USB, and allows you to plug in a keyboard and mouse via either USB or PS/2. As every true FPS player knows in their heart , the keyboard/mouse combo is the superior control when it comes to headshots, humiliation, and sniping. Accept no substitutes.
Price and availability are still missing, but XCM promises the XPS 360 "very soon." I await with bated breath.
[via The Gadget Blog ]