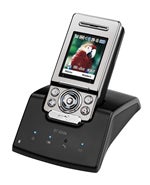 Ever since getting my MacBook, I've been doing the best to live the Bluetooth life. I've got it paired with my Motorola E815 (under both OS X and XP). I've paired my phone with my dad's Acura TL (mainly to taunt him, because he doesn't have a phone that does Bluetooth), and I've got a wireless headset currently en route to me via UPS.
But I still kind of wish I was living in the UK again, so I could get my hands on the new BT (that's British Telecom to those in the know) Glide Bluetooth landline phone. It brings all the fun of a mobile phone to your landline, letting you personalize ringtones, use sms, play games, even sync your conctacts with your mobile. It also includes a built-answering machine and caller ID. About the only thing it doesn't let you do is leave your house, though you can go pretty much anywhere inside of your house with the 300 meter range (you may need more than one for those palatial LA residences).
It runs about £179 (~$332) and it's available now. Except to us poor Americans, I guess.
[via Gizmodo ]