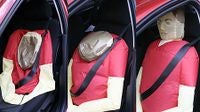 This inflatable car passenger creeps me out. Especially these pictures of him in the inflating process. I guess the idea here is to make it look like you've got more people in the car, so that when you're driving late at night, you don't get car jacked. Or maybe it's to abuse the HOV lanes in some cities. I don't know. Either way, it reminds me of the automatic pilot from Airplane . Apparently he's small enough (when deflated) to fit in the glove compartment…so don't think he won't be a little ticked off when you finally let him out.
As the product suggestion reads:
Four out of five women* (80%) say they feel safer behind the wheel when there's someone sitting beside them – but of course it's impossible to always travel with a partner, friend or relative.
But how many women feel safer when there's a
scary inflatable man
sitting next to them, hmmmm?
I've just can't get this freaky image out of my head of driving by a car with one of these, and then doing a doubletake as it turns and looks directly at me . Thank god it's just a prototype… for now .
[via Shiny Shiny ]