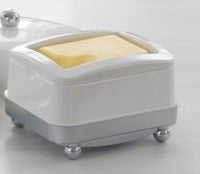 My roommate and I have a difference of opinion. She likes to keep butter in the cabinet to keep it soft, and I like to keep it in the refrigerator so it doesn't go rancid . Isn't there some sort of middle ground that will keep us both happy in terms of spreadability and health risks?
Perhaps so, with the ButterWizard (made with real magic). It's the world's first (and so far as I know, only ) temperature controlled butter dish. Plus, I have to say, how can you not love a product whose website includes a whole section called "Perfect Spreading?" The ButterWizard consists of four parts: a lid, an insulated main unit, a removable dishwasher-friendly butter tray, and a re-charging base with adapter. You can pick whatever temperature you want to keep it at using an adjustable thermostat. All for the low low price of £35. You can even get it with a cow-print lid!
It's only available in the UK, but since my girlfriend is about to spend a few weeks over there, maybe I can convince her to bring one back with her. Hmm.
[via Shiny Shiny ]