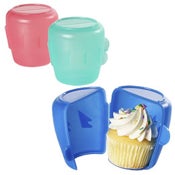 As long as we're talking kitchen gadgets, I have something to show you that will change your life . Seriously. Are you ready?
Individual cupcake holders. Yes? Yes . Because there's nothing— nothing —worse than saving your delectable dessert until the very end of your noonday meal and then realizing that its transport in a brown paper bag has rendered it totally and utterly unsalvageable. Now that's tragic.
But the Cup-a-Cake individual cupcake holder can prevent such travesties. Simply insert your cupcake and snap closed. $3 and it comes in blue, pink, or green from The Container Store. I cannot wait to give it a whirl with one of my friend's awesome penguin cupcakes (for which no real penguins were harmed).
[via popgadget ]