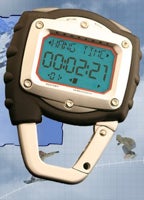 If you're not a football fanatic, and thus have no interest in gauging how far you can throw, maybe you'll be a little more intrigued by the HangTimer. For those who like to play a little basketball, or do some snowboarding or skiing, HangTimer will let you know down to the hundredth of a second just how much time you spent off the ground.
This model, which works via a tri-axis accelerometer, is shockproof and water resistant up to 3 meters (great for timing the amount of hang time you can get underwater ), stores your top ten hangtimes, best average hangtime, and more. It's attached to a carabiner, meaning you can clip it anyplace handy.
Oh yeah, it also shows you the time and date—vital information when you're contemplating that next 1440 or jumpshot. The HangTimer goes for $99.99.
[via Gearlog ]