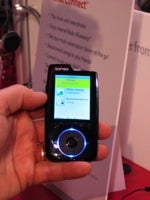 If the Zune proved one thing, it's that people want Wi-Fi in their music players more then I want Bill Gates to parachute out of the sky and give me a million dollars. Among its line of new Sansa music players, SanDisk unveiled the Sansa Connect Wireless Internet MP3 Player (hey, that's catchy). The Sansa also appears to finally fill in some of the gaps that the Zune had in its use of wireless.
The Sansa Connect allows you to view your photos and listen to your music from anywhere you can get on a Wi-Fi hotspot—provided that you have a subscription service. In addition, when you get online, you can purchase content from "select service sites"; it claims to have "an open (non-proprietary) digital rights management system that will allow users to purchase songs or access subscription download services from specific premium internet sites," though there is also mention of PlaysForSure. The Sansa also stresses "community" by allowing you to recommend music and photos to others (a footnote mentions that it may require "subscription to access content"), but it doesn't sound as though it actually allows you to swap song or photo files as the Zune (sort of) does.
The 4GB Sansa, which also accepts microSD cards for expansion, will run for $249. The subscription service may require you to provide your soul . Maybe.