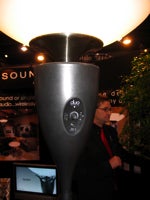 Light and sound: who doesn't love light and sound? Without them we'd be living in a dark, silent world, not unlike those old movies from the '20s (back when the world was in black and white). Bringing the two of them together is the province of Mitek's Soundolier product line.
The Soundolier consists of a transmitter and a speaker that's designed to look like a lamp. The reasoning behind it is both aesthetic and practical. They started out trying to figure out a good way of doing the rear speakers in a surround sound situation without having to string pesky wires, or have unsightly speakers sitting out in the open. Soundolier was the answer. The Duo model looks like a tall floor lamp; you can't even tell it's a speaker unless you get up close and peruse the controls on the side. They've designed the lamp to be tall enough so that even lanky fellows (like yours truly) won't be blinded by the lights.
Each lamp has controls for volume, specifying a wireless channel (with four possibilities), whether the speaker should provide the right or left channel (or a mix of both), as well as having both input and output jacks.
The most surreal portion of my demo of the Soundolier was when the guy showing me segued seamlessly from showing off the 360° audio capabilities to demonstrating the new foot dimmer they added. The Duo is available on its own for $279, or with a transmitter for $379. They've also added a subwoofer that's flat so it can fit between your sofa and the wall, or underneath the sofa; it also runs $279. The products will start shipping at the beginning of Q2.