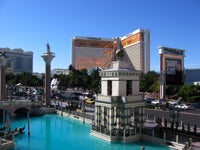 The Consumer Electronics Show (CES) doesn't start in earnest until Monday, really, but there's plenty happening between now and then. Today I'll be checking out the Unveiled press event and tomorrow I'll be probably attending a few press conferences, keynotes, and other rigmarole. Monday the convention starts full force, and I'll be hitting the show floor. Let's hope it doesn't hit back.
I've already learned a few things in the mere half a day I've been here. Lesson 1: Last time I was in Vegas, it was August. Turns out the weather is just a tad different in January. In a freak occurrence that you can chalk up to global warming, the gulf stream, or the chilling presences of Les Moonves, Bill Gates, and Michael Dell, it's actually twenty degrees colder in Vegas today than it is in Boston . That = insanity. Lesson 2: It's worth it to pay more for a nicer hotel. I'm still working on curbing my own, um, frugality . Lesson 3: Cabs are expensive. And/or possibly untrustworthy. I also forgot just how surreal this city is, especially in the harsh light of day.
Alright, none of that really has any bearing on technology—that comes later. I'll be covering CES through Tuesday evening, so keep your eyes on Gadgetbox, MacUser, and Macworld.