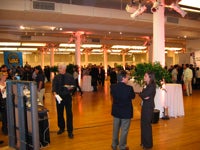 Having regaled you with tales of my experience at CES's Press Preview, keep in mind that this was just one night with a handful of vendors. The main event is still to come in January in Sin City, where the sheer amount of consumer electronics is to be mind-boggling. There are certain to be more crazy gadgets and gizmos news for us to bring to you, assuming that we are once again let loose from Gadgetbox HQ.
Hope you've enjoyed this taste of CES, and that your appetite is whetted for the delicious entrée ahead. Now, if you don't mind, that food metaphor is making me hungry. I'm off to snag a sandwich before delving back into my dungeon of technology.
Note: When you purchase something after clicking links in our articles, we may earn a small commission. Read our affiliate link policy for more details.