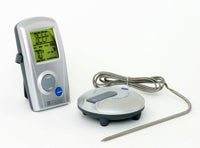 I live in constant fear that something I ingest is going to kill me: undercooked meat or poultry, E.coli-infested spinach, that fish I dropped on the floor, you know, the usual. Maybe the problem is just in my mind, but that doesn't mean that it's not real (or so I keep telling myself). Can technology help me in some way, or is it time for a dose of culinary psychotherapy?
Oregon Scientific might be able to alleviate at least the pressure of undercooking my steaks with the AW131 Talking Wireless BBQ/Oven Thermometer (Note: that's it's little brother, the AW129 Wireless BBQ Thermometer which is similar, but less talky). Sure it's a mouthful—just like your dinner! Still, if you've ever wandered a football field away from your barbecue with no way to tell when your food's done, this gadget is perfect for you.
The package consists of a stainless steel probe, a wireless sensor, and the main unit itself. Pop the probe (attached to the sensor with a 3′ cord) into your beef, lamb, veal, hamburger, pork, turkey, chicken, or fish (with presets for each) and choose your doneness (rare, medium rare, medium, or well done). Clip the main unit to your belt, and you're free to wander all around the neighborhood. When your entree hits is ready, you'll be greeted by a pleasant voice telling you so, in your choice of English, Spanish, German, French, or Danish. It should be available by Father's Day next year, so put it on your list, dads.
That's a load off my mind. Now I just have to deal with my fear that talking gadgets are going to start whispering things into my ear while I sleep.