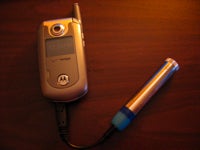 Besides winning the award for longest product name, the Turbo Charge UPRICPP (as I've decided to call it), is actually quite a handy little device. Looking like an oversize tube of lipstick, it's a small tube that has room for a single AA battery (included). Pop that battery in and twist the bottom of the tube, and you'll notice the blue cap light up.
At the top of the tube is a small port for the numerous adapters included with the Turbo Charge—one for pretty much any brand cell phone you can imagine. Connect that side to your cellphone and instant power . It's a great idea, since I'm sure we've all been on the road without our cell phone chargers before; just leave the Turbo Charge in your bag, and wherever you can get a AA battery, you can add some juice to your phone. The strength of the charge is as good as the battery you put into it; so pop in some of those AA Lithiums, and you're bound to get a decent amount of charge.
My favorite extra is that the Turbo Charge also includes a little LED flashlight that you can plug into it. There's also a model that comes with an iPod adapter called the iTurbo, but the aside from the adapters, the two are interchangeable, so you can pack just one device with the correct adapters for iPod and cellphone. $20 will get you the TurboCharge with one adapter of your choice—$24.95 will get you all the adapters, or you can buy additional adapters for $2.95 apiece.