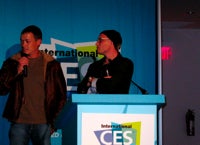 So after my trip to the Nintendo World Store, I headed down to the Metropolitan Pavilion for the main event of my day of freedom: the CES Press Preview Featuring Unveiled@NY. For those of you unfamiliar with CES, it's the Consumer Electronics Show, the world's largest gadget shindig, held every year. In January 2007, it'll be rocking the house in Las Vegas with an anticipated 2,700 exhibitors over 1.66 million net square feet of space and, my handy dandy press packet informs me, last year featured close to 100,000 cups of Starbucks coffee sold. Great.
First, I sat through the press briefing of the Consumer Electronics Association, during which I spent most of the time thumbing through the goody bag, which included a 512MB flash drive (containing said handy dandy press packet), a 3 Doors Down CD and Super CD, and a reporter's notebook. I ask you: what the hell am I supposed to do with a reporter's notebook? Yeesh.
Meanwhile, a couple of suits from the CEA tried to convince us that this year's holiday shopping season will not in fact be a soulless pit of despair. Things are great, you see. They had graphs, charts, survey results: it must be true! We then got a quick spotlight of 7 of the 32 products honored with an Innovations Design and Engineering Award. Strangely enough, the computer hardware category was represented by Dell's XPS M2010, proving once again that Dell will never win an award for naming a computer hardware product.
Then followed a lengthy spiel by CEA President Gary Shapiro, featuring surprise guest 3 Doors Down, proclaiming their love for uncompressed, high quality audio—at least, that's what I think they were talking about; to my ironic delight, they were pretty badly miked. And finally, it was off to the pièce de r&eacutesistance : the CES Unveiled @ NY exhibition, featuring a handful of snazzy products and vendors. Stay tuned for more.