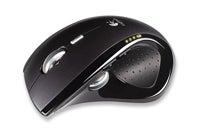 I've been thinking for a while that it might be time for a mouse upgrade. I've been using the same $20 Logitech optical mouse since college: two buttons, scroll wheel. That's all the bells and whistles that my pointing device has. Meanwhile, the rest of the crowd has adjustable DPI settings; extra buttons out the wazoo; and, of course, lasers . But with all the options, what's a man to do?
In New York, I got a chance to play very briefly with the Logitech MX Revolution. Besides the laser and the fact that it's wireless (powered by a rechargeable Li-ion battery), the MX Revolution features a sweet metal scroll wheel with some advanced scrolling technology. Flick the wheel and it'll free spin for 7 seconds, making it a breeze to zoom through long documents. The Logitech rep said it could do 10,000 rows of an Excel spreadsheet in a matter of seconds.
Unlike its little brother the VX Revolution, the MX also features a second scroll wheel positioned under the thumb that you can configure to switch you between programs or documents. Both models have an instant search button that is a nifty idea, but is poorly positioned behind the scroll wheel. As with any new device, I imagine the Revolution would probably take some time getting used to, but its benefits could be manifold . The MX goes for $99.99 while the VX sells for $79.99, and both are compatible with OS X and Windows.