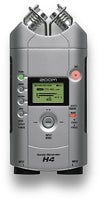 I've gotten more interested in audio technology since starting to host and produce the MacUser Podcast a couple of months back. While I'm still a long way from a true audiophile, at least I can appreciate a nice piece of sound equipment. The Zoom H4 Handy Recorder certainly seems to fit that bill. Besides featuring a X/Y Pattern Stereo Mic, the H4 has pretty much every connector you could ever want. Ever . Mini-usb, line out, headphones out, a pair of XLR 1/4″ inputs, not to mention an SD card slot.
I thought it looked a little bit like a Tazer, but the rep at the table offered to settle for "tricorder." The H4 not only acts as a multi-track recording and playback device, but it can also be used as a USB audio interface. And plug it into the computer with a USB cable and it mounts as a standard USB storage device, letting you drag and drop files off of it with ease.
It supports recording in both WAV and MP3 formats. The included 128MB SD card will let you store up to approximately 266 minutes of MP3 audio (at 64kbps) or 12 minutes of WAV (16 bit/44.1kHz), but memory cards are getting cheaper, so swapping up to a bigger one is no problem. Either way, the H4 looks to be a handy device for those looking for a compact, versatile audio recording solution.