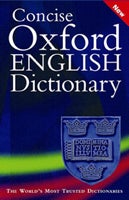 Thanks, Disgo, for combining two of my favorite things into one . You've put the Oxford Concise English Dictionary onto a 2GB flash drive. Brilliant . I know I argue against convergence sometimes, but this ain't no Radio Fan, okay?
I love dictionaries. Love 'em. You might say I'm a lexiconophilist, though I think the term more often used is "pretentious snob." But nothing shall keep from my love of all things wordy . Unfortunately, the dictionary is only a 30-day trial version, which can be converted to the full version at the cost of £14.99. And it looks like you'll need the U3 system installed on your flash drive in order for this to work (a piece of software that I explained how to uninstall just the other day ).
The OED is tops, though, even if it is only the concise version. I hope to get an unabridged copy for my home someday, even if it is twenty-two volumes and requires installment financing.
[via CNet ]