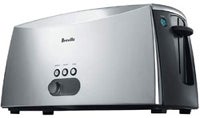 You know I'm serious about my toast. You know this . Speaking of which, I'm going to go put a bagel in the toaster oven right now. Alright, done. My issue with my toaster oven—make that all toasting appliances —is that it's really tough to find out when your toast has reached its proper golden brown toasted level. Don't get me started on toast dials with numbers: do I want a 6 or a 5? Does my toaster go to 11? Who knows?
Breville must have been thinking of me when they created their new ikon "lift and look" Toaster. It lets you pop your bread (or bagel) out of the toaster and check its toasting progress without interrupting the whole procedure. Simple but effective. Am I right? It's also made from hand-brushed stainless steel, with a LCD display and defrost and reheat modes, which probably helps explain its $79.99 pricetag. Just remember: perfect toast is priceless.
[via OhGizmo! ]
When you purchase through links in our articles, we may earn a small commission. This doesn't affect our editorial independence.