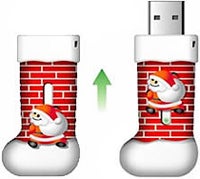 Yes, yes, this chimney-shaped USB flash drive is a perfect stocking stuffer. Ha ha. But have you stopped and really thought about it? For one thing, it's hardly accurate . How can it be both chimney- and stocking-shaped. Is it a stocking-shaped chimney or a chimney-shaped stocking? What is going on here?
Don't even get me started on the Santa-shaped slider control. I mean, does Santa usually go up the chimney on the outside ? What the hell? Pick a theme and stick with it . While you might be tempted to pick up one of flash drives (which feature USB2.0, an LED read/write indicator, and come in capacities of 256MB, 512MB, 1GB, and 2GB), let me bring up a point you may not have considered: how much of a doofus will you look like using this flash drive at any other time of the year ? Sure, maybe you'll get one "Christmas in July" crack out of it, but pretty soon you'll have wrapped it in a small brown paper bag just to avoid the sniggers of your colleagues. So think twice this Christmas, eh?
[via OhGizmo! ]
When you purchase through links in our articles, we may earn a small commission. This doesn't affect our editorial independence.