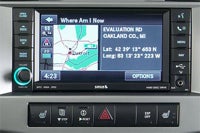 Hold onto your bucket seats everybody. There's a new wave coming in car radio technology and it's not coming from abroad; it's coming from right here in the good old U.S. of A. I know, I know. I'm as surprised as you are.
Chrysler, of all companies, has decided to put the pedal to the metal with its new MyGig system. You'll find a 20GB ruggedized hard drive implanted in the dashboard, where it's hooked up to a LCD display. Featurewise, the MyGig includes a USB port (for flash drives), an aux input for your iPod or music player, the ability to rip CDs to the hard drive, an embedded Sirius satellite radio that also displays real time traffic information on the LCD screen, and a DVD player for playing movies on the optional rear LCD screen (for passengers) or on the main screen, but only when parked. Throw in Bluetooth connectivity, and multiple audio outputs just for kicks.
Having just returned from a long vacation which necessitated several hours of car traveling, any and all of these would be welcome additions to my pitiful AM/FM/cassette player. Real time traffic info alone would be a fantastic feature (as the seven mile backup on the other side of I90 yesterday attested). And to see it all coming from an American car company, well, it almost makes you want to support our own economy. And being available in a $25,000 car certainly makes it more affordable.
[via Gizmodo ]