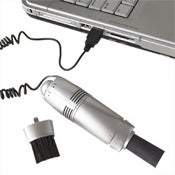 One thing I love about my new MacBook. The design and spacing of the keys on the keyboard means that it's really easy to prevent dust and guck from getting stuck down there, unlike your average keyboard. Still, if you're not so lucky as to have a MacBook, and you need to do some cleaning in those hard to reach places , the Container Store has you covered with a $4.99 USB-powered keyboard vacuum.
Admittedly, it's not shaped like a duck, but it does come with two separate attachments: a brush and a flexible rubber tip. Cleaning your keyboard has never been so fun or so rewarding. Think of what you might find down there? Change? Missing socks? Your fifth grade science project? Okay, maybe you shouldn't think about what you might find down there.
[via Popgadget ]
Note: When you purchase something after clicking links in our articles, we may earn a small commission. Read our affiliate link policy for more details.