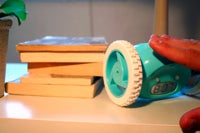 There are any number of cruel, torturous devices of the variety known as "the alarm clock." These sinister contraptions are designed to rip you from the arms of your restful slumber, and send you plodding about your quotidian duties. But one of the most diabolical design concepts in this field has finally been made flesh—well, plastic.
Clocky, the Frakensteinian brainchild of MIT student Gauri Nanda, will cost you just $50—but the disruption it causes to your life will be priceless. As you plead for another five pitiful minutes, desperately whacking the snooze button, Clocky will spring to live, rolling off your nightstand and zooming around the room, beeping and flashing the whole time. Unless you catch Clocky and silence him (preferably with a sledgehammer), you may never sleep again. Ever .
Clocky is available in white, aqua, and mint, or, if you, like Sam Tyler, are mysteriously stuck in the seventies, a brown shag covering.
[via Uber-Review ]