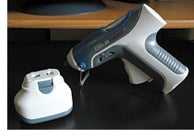 I can think of few combinations more dangerous than heat, glue, and me. My propensity to burn myself with soldering irons transfers well or, um, badly to the use of hot glue guns, and adding adhesive just makes it that much more entertaining for those observing me.
Hence, I was obviously intrigued by ColdHeat's Soldering Iron, which is suppose to cool down near instantly. Now that they make a ColdHeat Glue Gun, my life is complete. Not only does the gun cool down quickly, to prevent unsightly burning, but it's cordless too, so you can take it wherever your glue-melting heart takes you. The full review at OhGizmo! concludes:
Sure you can go out to your local craft store and pick up a cheap glue gun for only a couple of dollars these days but odds are if you use a glue gun a lot you're going to want something with a bit more build quality and features.

At $29.00 the ColdHeat Freestyle Glue Gun really does fit that bill perfectly.
Now if only I actually had something that
needed
gluing, beyond the occasional macaroni sculpture.
[via Gizmodo ]