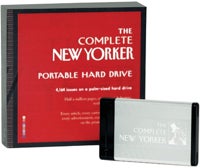 Call me pretentious, but I like The New Yorker . Despite the fact that every time I submit something to them, they reject me. I'm sure it's not personal; after all, they're The New Yorker —the last bastion of culture and civilization in this uncouth world. Or something.
For those interested in collecting the entire run of the magazine in an electronic, searchable format, there are, astoundingly, options. You can buy the hard cover book along with nine DVDs for around $60 or you can now pre-order, for $299, a portable 80GB USB hard drive containing all of the magazine's issues.
The major advantage I can see to the hard drive is 1) no swapping discs needed and 2) you get a portable hard drive. Granted, it's quite a bit more expensive; the true decider how future updates (which come at a cost of $20 per DVD for the DVD set) will be handled. If it's a free download, then you'll probably save money in the long run. Until, that is, you run out of space.
[via Gearlog ]