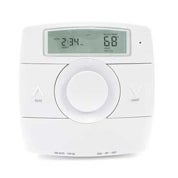 There was a time when I flirted with controlling my computer by voice. And by "flirted" I mean "tried in vain without any hope of success." Which, when you think about it, is a lot like flirting for me normally. Still, the dream in my head remains: one day I will be able to control my entire environment by voice, just like Star Trek .
To help me along to that end, here's the $130 talking Kelvin Thermostat. In theory it's for the elderly and disabled (though knowing my grandma, I can't really imagine her entering into conversation with an appliance). The buttons speak aloud what they do when you adjust them, and you can dictate the temperature simply by speaking it aloud. One hopes it understands better than those automated phone systems ("Did you say…two hundred and thirty degrees?").
Yes, the future is almost here. I hope when it arrives, there'll be no more need for flirting.
[via SCI FI Tech ]