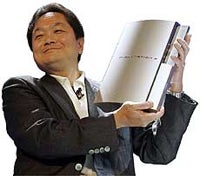 Sony Computer Entertainment Ken "It's a computer, okay?" Kutaragi spoke recently to Japanese site PC Impress Watch about the forthcoming console…what's it called again? The PlayDepot or something, I think (just kidding, Ken! Don't hurt us!). Ars Technica got ahold of the interview, and—clever boys—somebody who can translate Japanese, to bring us this interesting tidbit:
"We don't charge for the basic functions of the network like matching services. Things like that are taken for granted on a PC, aren't they? There's the feeling of why a game console gets to charge for a service that's normal on a PC. So, we just made the basic services available, and based our business on the contents," he said.
Interesting…
very
interesting. Taking a clear shot at industry-leader Xbox Live, which requires a monthly subscription fee, is pretty gutsy, but I think Kutaragi's right. Multiplayer is becoming a more and more intrinsic part of gaming, whether it be sitting down with your buddies to play some Halo, or fragging strangers over the Internet. Given Kutaragi's insistence that the PS3 is, in fact, a computer, making online play free may attract PC gamers who are unwilling to shell out for another monthly subscription. Assuming, of course, they can muster up the $500 buy-in.
Well, whatever they do, we hope they .