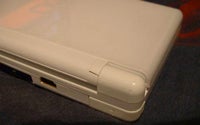 Much as we at Gadgetbox praise the Nintendo DS and its lick-worthy successor, the DS Lite, we realize that nothing is perfect. So the news that many a DS Lite is suffering from a cracked hinge merely pauses us to shake our heads in shame. Well, Nintendo, if you're gonna cop a page from Apple's super-secret design vault (the iVault, if you will), you'll have to take the good with the bad. Flaws happen.
Though, suspiciously, all the cracks seem to be occurring in roughly the same place, Nintendo has issued a press release stating that "not aware of any problems with the hinge of the DS Lite", preferring instead to blame the damage on clumsy DS users (perhaps they should be playing more Brain Age, hmmm?). But website MaxConsole has compiled a list of users around the Internet who have chimed in with their own experiences, and an informal poll on Kotaku suggests that up to 14% of DS Lite users may have cracks in their hinge.
The secret? A clandestine organization to which all DS Lite owners are indoctrinated, which practices the ritual dropping of DS Lites exactly one month after purchase. No, really. Derik told me.
[MaxConsole link via Joystiq ]