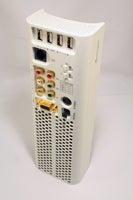 Funny, I don't seem to have any problems whatsoever with cooling on my original NES. Though I do have to spend a fair amount of time blowing out cartridges to get them to work properly. Tradeoffs.
Should you have a problem getting heat to dissipate from your Xbox 360, you might consider Gamexpert's new Cooler King. Not only does it keep your Xbox nice and chilly via an internal fan system, but it also acts as kind of a dock, turning the Xbox's proprietary AV port into standard outputs for component video, composite audio/video, S-video, VGA, and optical audio. You'll also find four USB ports, should you want to attach four media players or controllers.
All this seems rather like a steal for just $35—granted, that's on top of the console that you probably paid at least $300 for already. Oh well, it's cheaper than a new game anyway.
[via Engadget ]